What We Do?
Circular economy of commercial plastic packaging in urban environments - LIFE RECYPACK
LIFE-RECYPACK is a demonstration project to foster green public procurement (GPP) of CPPW in urban areas. The project will demonstrate that this waste stream is a valuable resource from which new recycled added-value materials and products can be obtained. The project will implement an innovative management model to assist local authorities in decision making, and to provide companies with incentives to participate.

The project will evaluate the generation of CPPW by business/shopping centres, urban commercial centres, distribution companies and professional small and medium-sized enterprises (SMEs). The project will focus on polyethylene, which is the most common type of plastic, and expanded polystyrene, which is a concern because of its low density. The project will operate two recycling facilities, in Hungary and Spain, which will produce recycled polyethylene and recycled polystyrene from CPPW. The recycled material will be used to manufacture new plastic products, thereby closing the loop. The project will also evaluate the potential for replication of its recycling systems in Belgium, Croatia, Poland, Romania and Turkey.

LIFE-RECYPACK will be an example of a circular economy business model and will contribute to the recycling of plastic waste, which is one of the priority sectors in the EU Circular Economy Action Plan. The project will also help the implementation of the Waste Framework Directive, the Landfill Directive and the Packaging Waste Directive.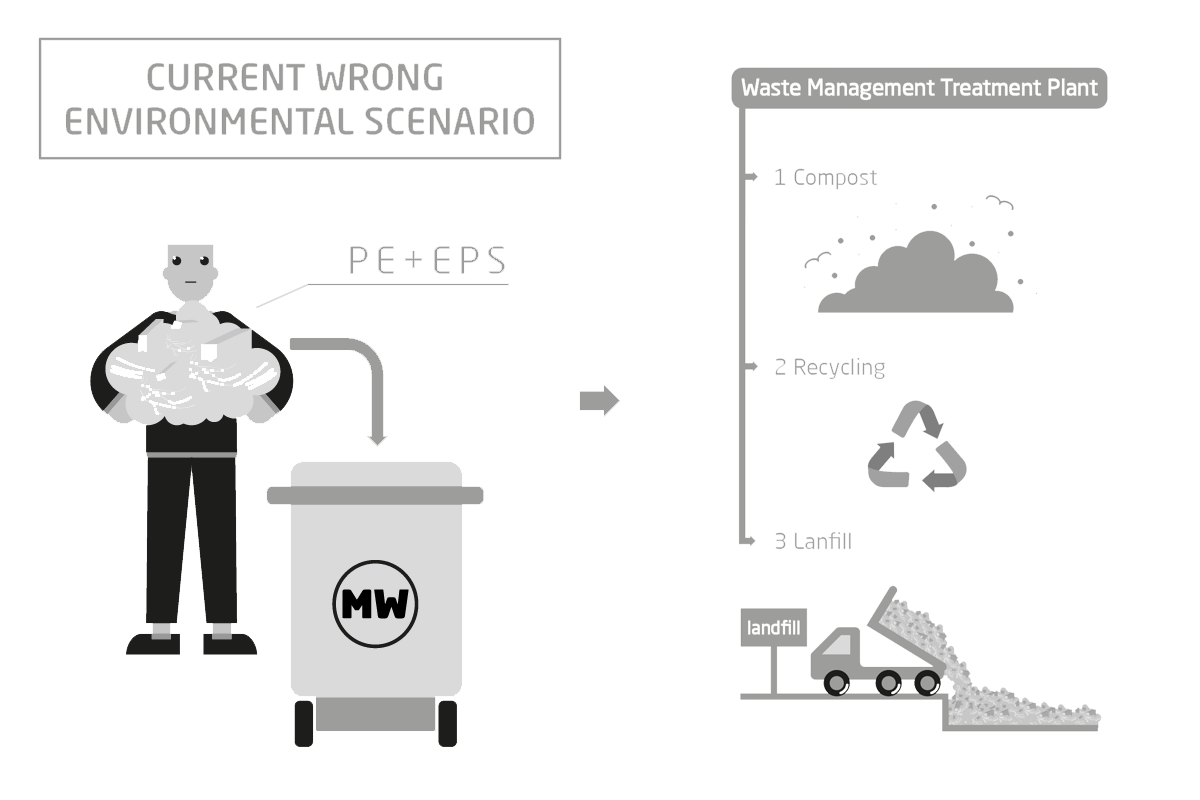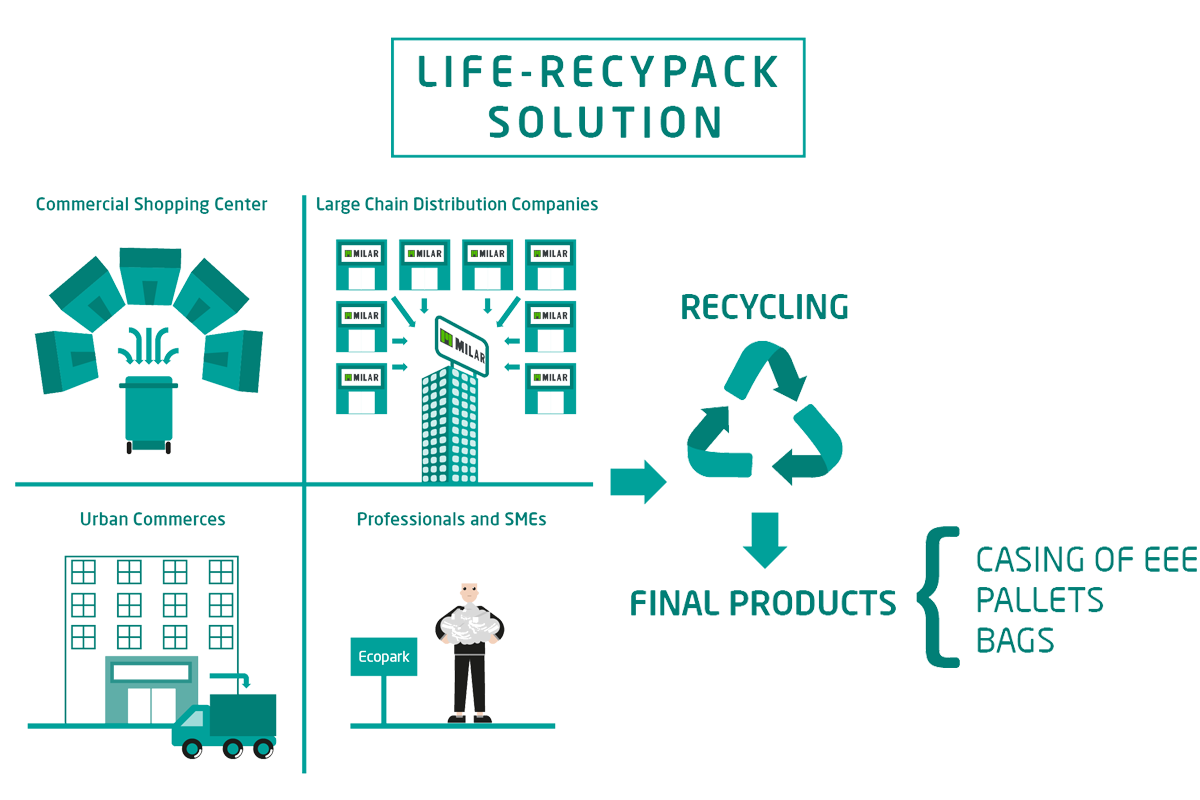 Project Workflow
Analysis of the current situation in European Countries

ATTAINABLE (in progress): 100%
LOGISTIC DEMONSTRATOR 1: COMMERCIAL SHOPPING CENTER. COMMON CONTAINER

ATTAINABLE (in progress): 100%

LOGISTIC DEMONSTRATOR 2: COMMERCE OF URBAN CENTRE. COLLECTING DOOR TO DOOR

ATTAINABLE (in progress): 100%

LOGISTIC DEMONSTRATOR 3: LARGE CHAIN DISTRIBUTION COMPANIES. REVERSE LOGISTIC.
ATTAINABLE (in progress): 100%

LOGISTIC DEMONSTRATOR 4. PROFESSIONAL SMES. CIVIC AMENITY SITE PER DISPLACEMENT OF THE PROFESSIONAL

ATTAINABLE (in progress): 100%
recycle waste

ATTAINABLE (in progress): 80%

Results.

ATTAINABLE (in progress): 80%
Results
More than 20 tons collected from EPS and 10 tons PE so far from Project. Getting new quality raw materials.



New identification code in Ecopark for flow



First products obtained with project material (street furniture and bags)


Replicability in other urban areas (Mislata)



Models for the separation and treatment of commercial plastic waste at the origin have been developed



Information campaigns: visited more than 75 stores in urban areas and 60 partner stores for Demo 3